MakeIT School is a platform for learning 3D prototyping at your school to promote engineering among students. Students could learn 3D modelling, 3D printing, microelectronics and manufacturing great things during the training.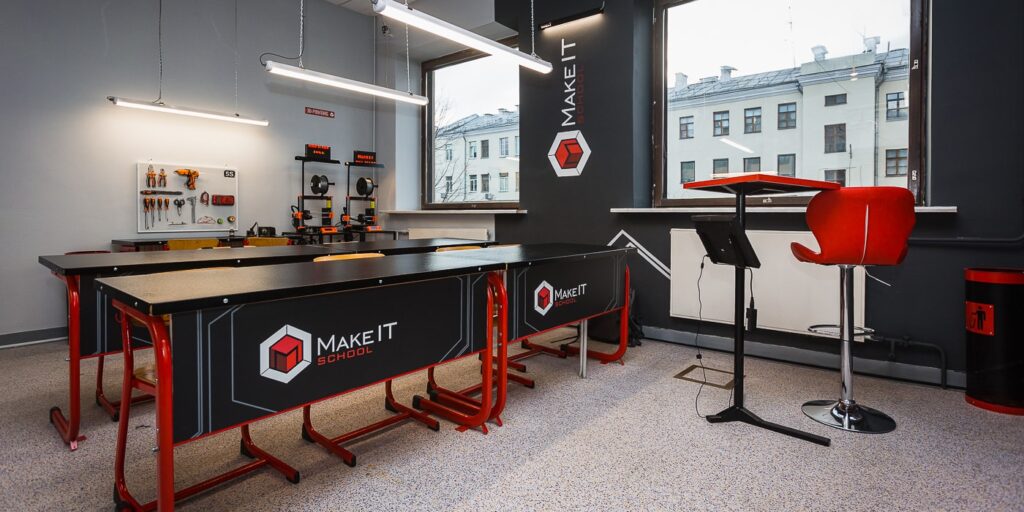 Growing industry requires qualified staff and new approaches to education since the old ones being a good tool at fundamental Sciences don't allow you to effectively study new Subjects.
The production industry of wearable electronics, cell phones, and other high-tech devices can't exist aloof. It should be an industry solution where children are its foundation because it's them who will design, prototype and assemble these complex tech devices.
Watch 1 minute MakeIT School video
MakeIT Class is designed to teach students practical technical subjects
Construction in a 3D CAD system
3D printing
Prototyping
Robotics
Introduction to Project Management
The basics of lean manufacturing LEAN
Build Robotic cars, FPV drones, IoT for home…
The goal of our program is to create a project, for example, a robotic car with a tool or a drone with VR glasses. On the contrary, it's just a number of paragraphs with the study of a specific microcontroller or 3D printer
functionality. The project itself already incorporates all necessary knowledge and lessons that we structured from simple to complex. Only thus students will have the motivation to get there in the end. And to understand why they need certain knowledge and subjects.
What is in the class?
A teacher's lecturing desk
Projector
Prototype rack (where students can store their prototypes)
A chill zone and a discussion board
Two places for prototyping with a soldering station and a set of tools
Two 3D printers
Interactive learning and access control system
Learning program
With each class you get two learning programs. One for your teacher and one for your students.
Supported by EnCata to open MakeIT School

Founded by EnCata, an R&D company, MakeIT school incorporates practical knowledge applied right here and now by engineers and equipment operators to solve their tasks and produce prototypes. At first, we conceived a program for training specialists in the R&D center but then decided to adapt it to students by creating MakeIT school. Not just in words but in practice in implements a direct link between students' curriculum and real work they will get later.
Schedule a 15 min zoom call to get more information